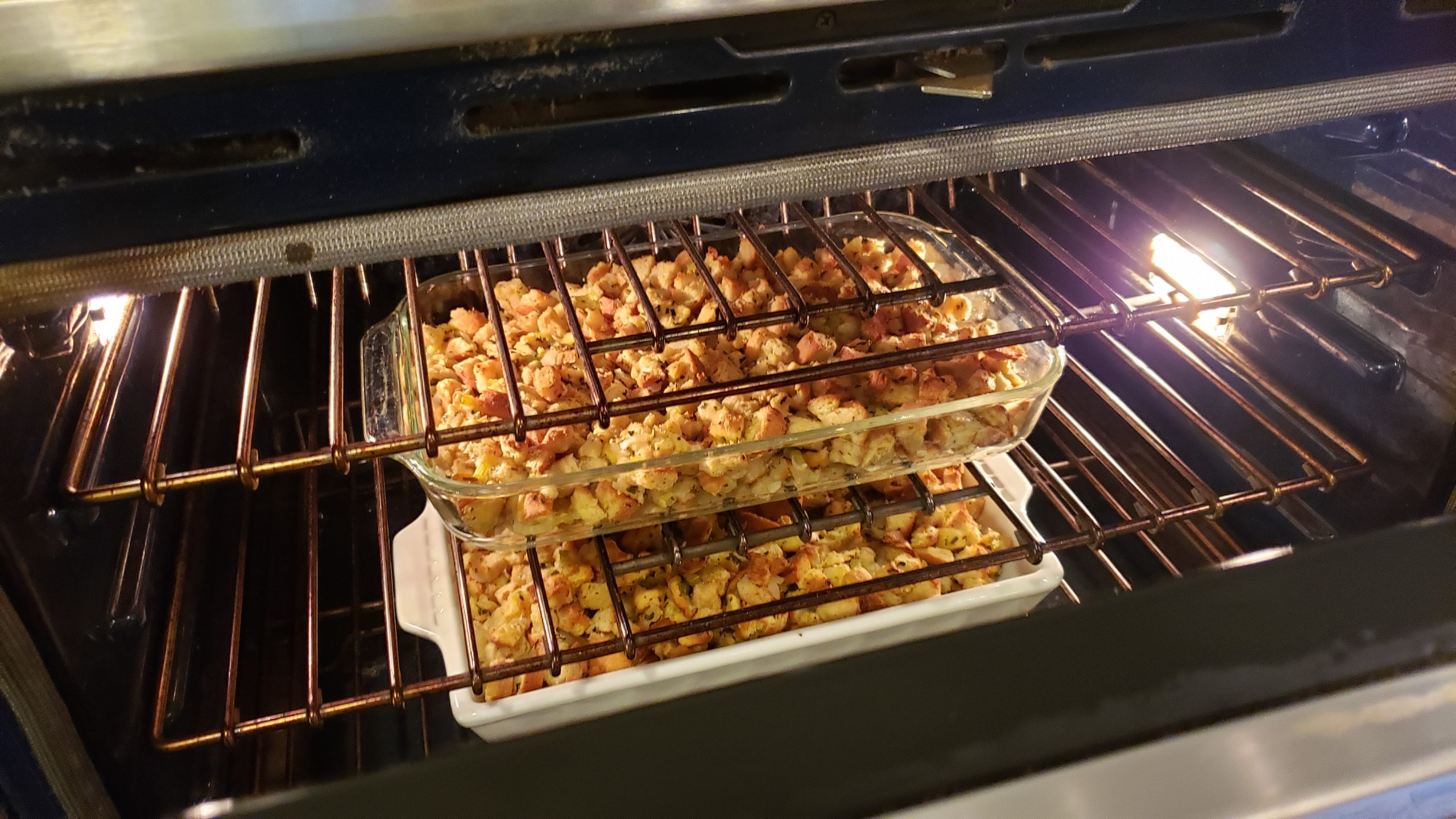 From my mother-in-law's 1960's Good Housekeeping cookbook she got when she got married. It is a very traditional stuffing that both of my son's think shouldn't be messed with, not even one little bit. Not on the holeyest of food holidays. Bring out your fat pants. You're gonna want to do some reclining when we're all done here.
Ingredients:
4 loaves (9 quarts) of rustic Italian white bread, cubed and roasted in 200° oven for about 2 hours or until completely dried out
4-1/2 c. boiling water
1 to 1-1/2 c. butter
1 c. minced onion
1/2 tsp. pepper
2 tsp. poultry seasoning
3 tsp. salt
4 Tbl. freshly chopped parsley
4 Tbl. diced celery
3 Tbl. yellow or dijon mustard (there is much debate in our household over which to use. Settle it once and for all with rock, paper scissors. If you must, go best of 2 out of 3.)
Instructions:
Combine boiling water, butter, and onion and simmer for 5 mins. Add rest of ingredients, except bread cubes, and mix well. Once well combined, add dried bread cubes – about 1/2 at first. Mix that in, then add more bread cubes in smaller amounts until the bread is moistened but not drenched. It will become moister once stuffed into the turkey cavity so don't overdo it. Conversely, you can put it into a buttered 9 x 13 baking dish and bake at 350° until warmed through. If you do it this way, it's technically called Dressing, not Stuffing. You'll also want to baste it with turkey drippings or chicken broth so it will be more moist to make up for not being in the bird.