This weekend I attended my second food swap with the Chicago Food Swap, hosted by Free Range Office in Wicker Park. I went with a friend, her first time, and we had a blast. There is something so comforting being amongst people who love to talk about and get excited about creating things with food!
I loved the location for this month's swap. Located in a trendy, hip neighborhood, we walked up to the second floor to find an office space filled with light pouring in from all sides of this vintage-style building. There was a fully-functioning kitchen with butcher-block counters located squarely in the center, a lounge area with a comfy grouping of couches off to the side, and lots of tables and stools to spread out our wares. It provided ample space for everyone to set up their items with room to mingle about comfortably.  Andrea and I arrived a little early and were lucky to get a parking space right out front. Emily put us to work laying out tableclothes and helping to get things set up.
It's a funny thing that no matter how many times I circle the room to sample everyone's food (prior to the swap), I always find something I missed in my previous rounds. There is such a wide variety of things to be had – savory, sweet, and everything in between – that it can become overwhelming in short time. At the December swap, I was unprepared for just how fast everyone was swapping. But this time I had a plan. As I circled the space, I took a photo of each item I wanted to try to get. I also made note of how many of that particular item there were and whether or not it was popular (if bids overflow to the backside of the swap sheet, they are popular!)
When the swapping began, if an item I wanted was popular and/or had limited quantities I went directly to these tables first with my items to swap. Once I had the hard to get items conquered, I reviewed my photos to remind me of what other tables I needed to visit. And finally, once I had all the items I wanted, I returned to my table to review my swap sheet bids for others that were looking to swap with me. This proved to be quite a successful strategy. Here are some of the offerings that caught my eye.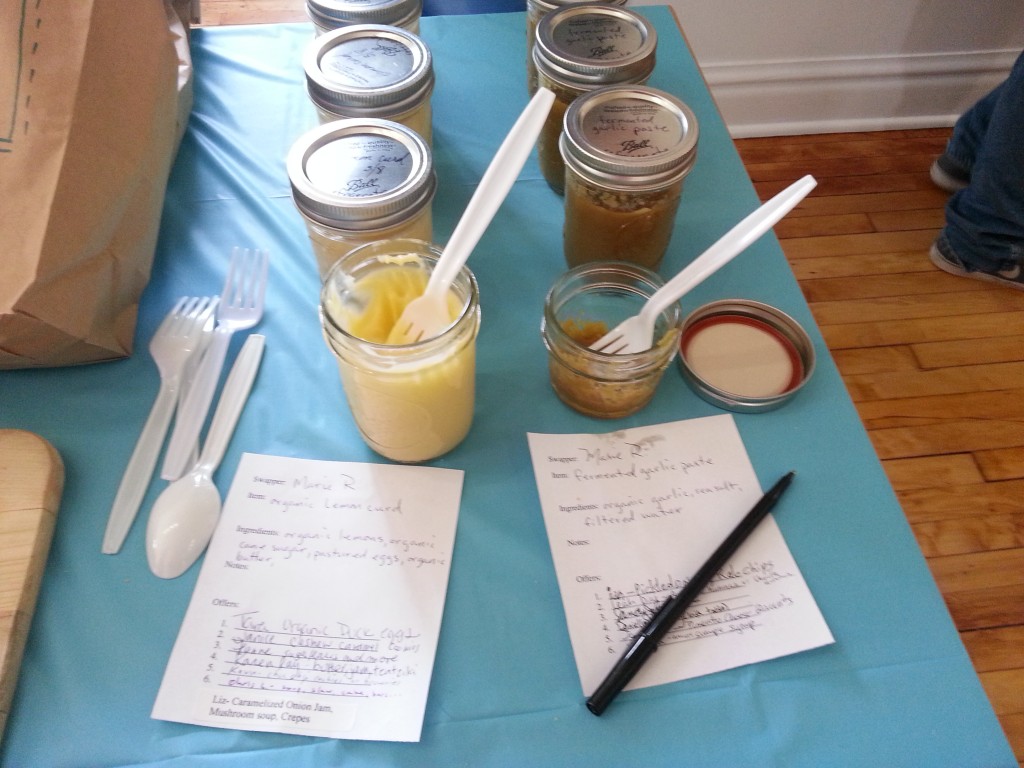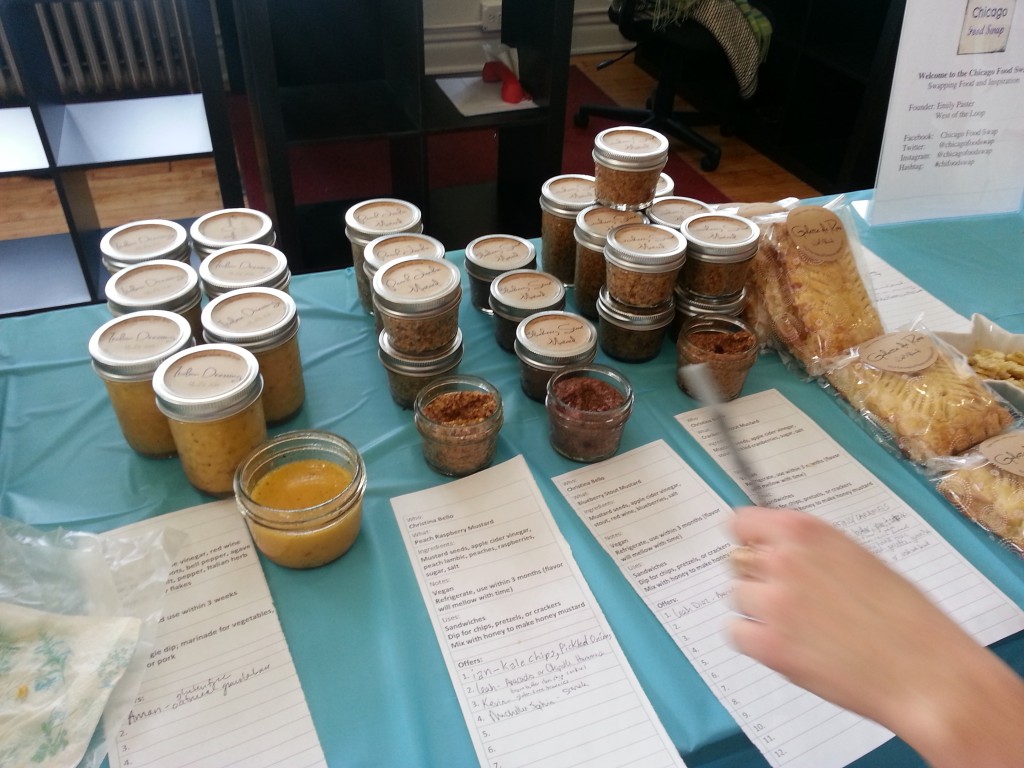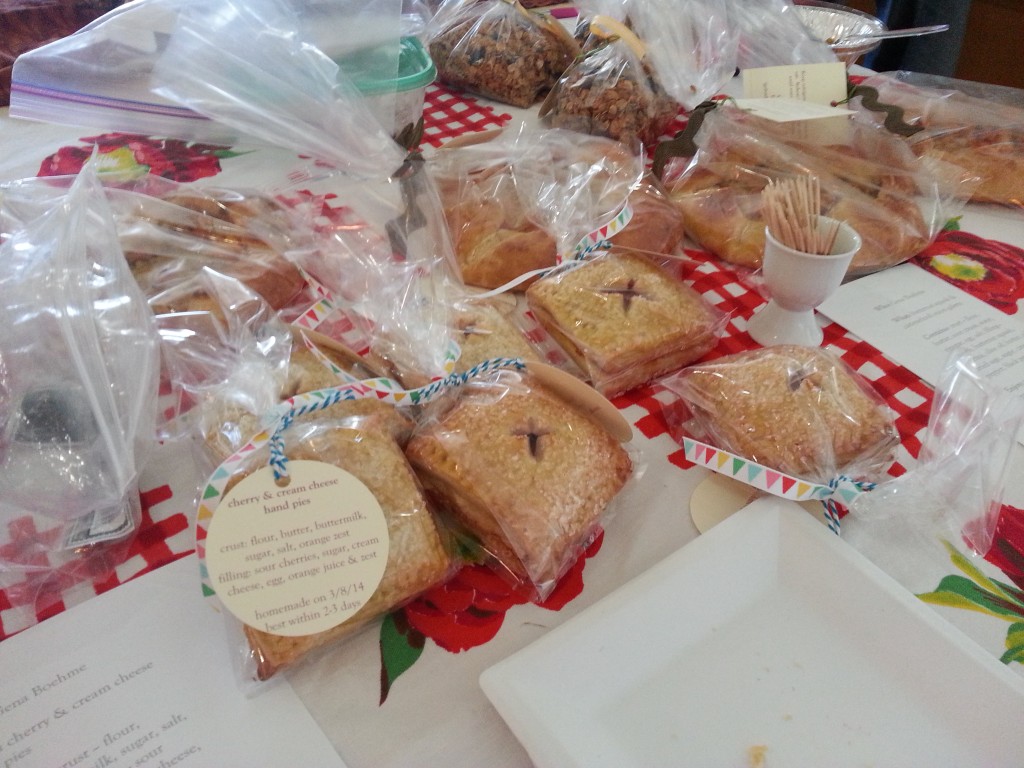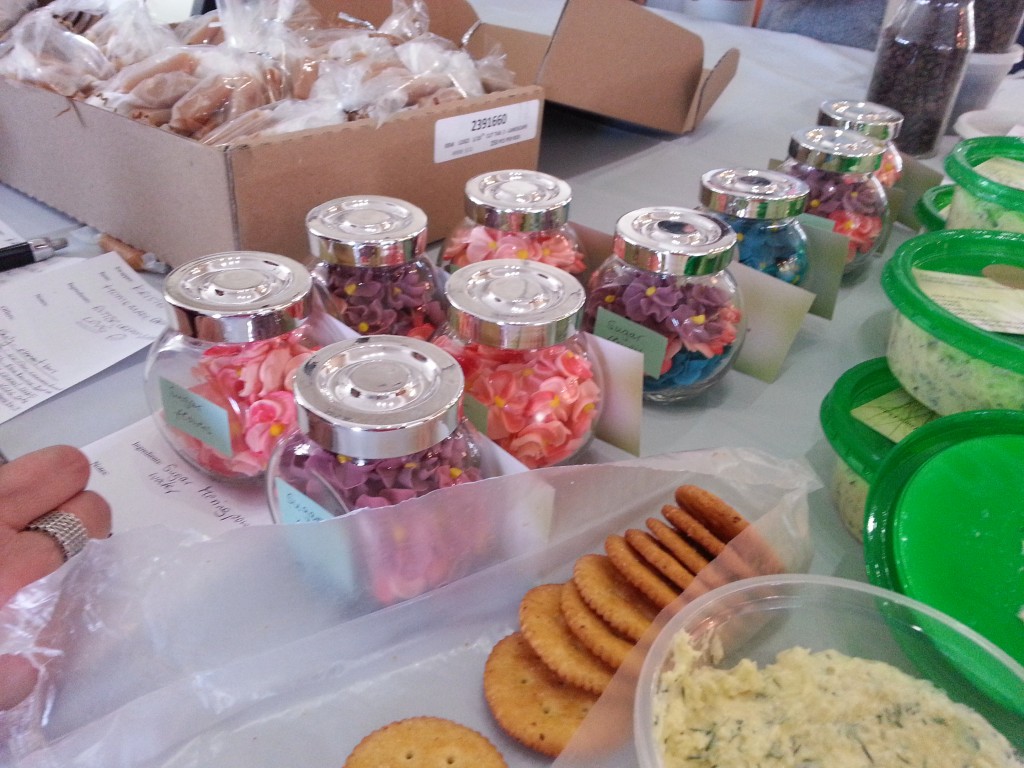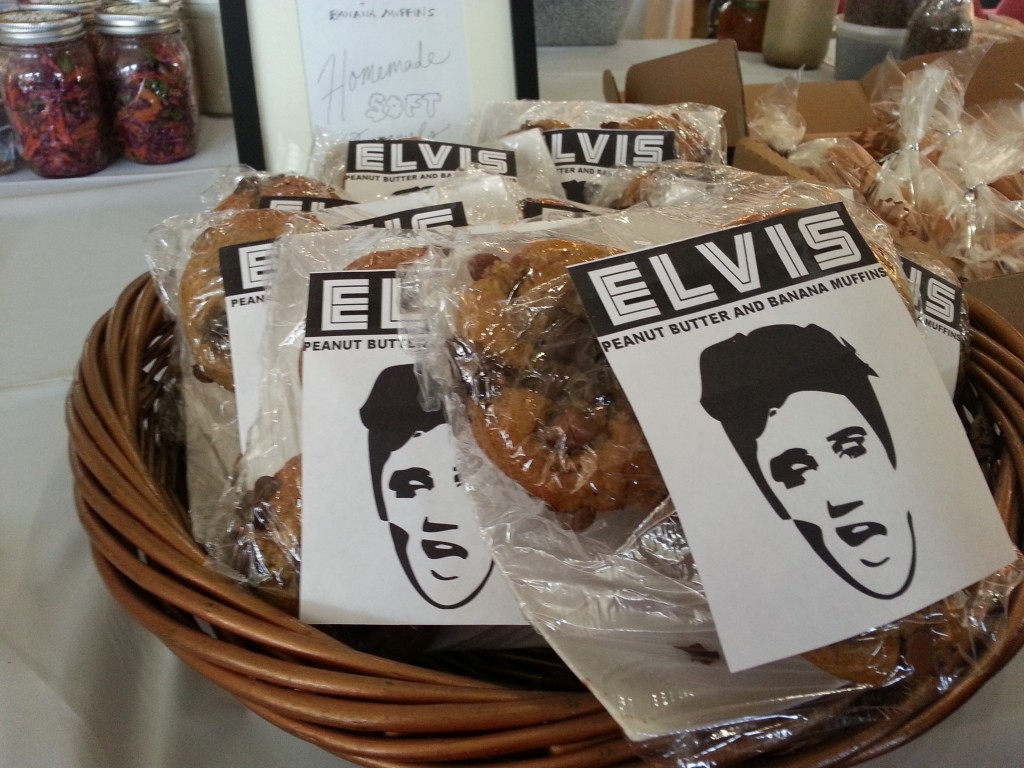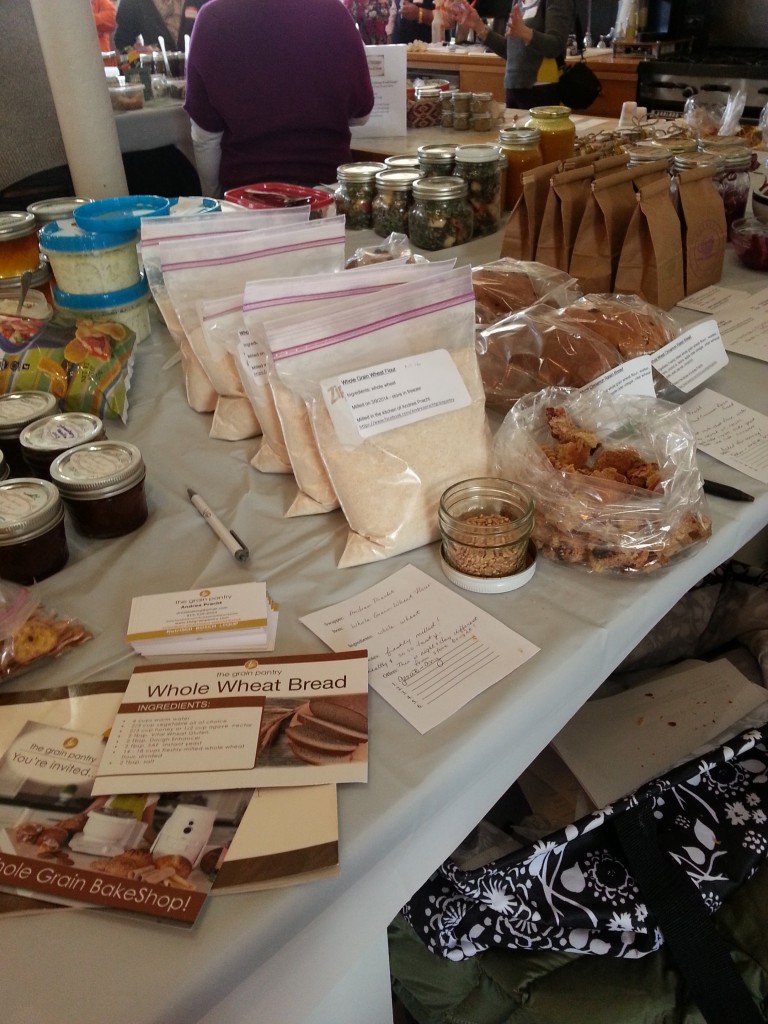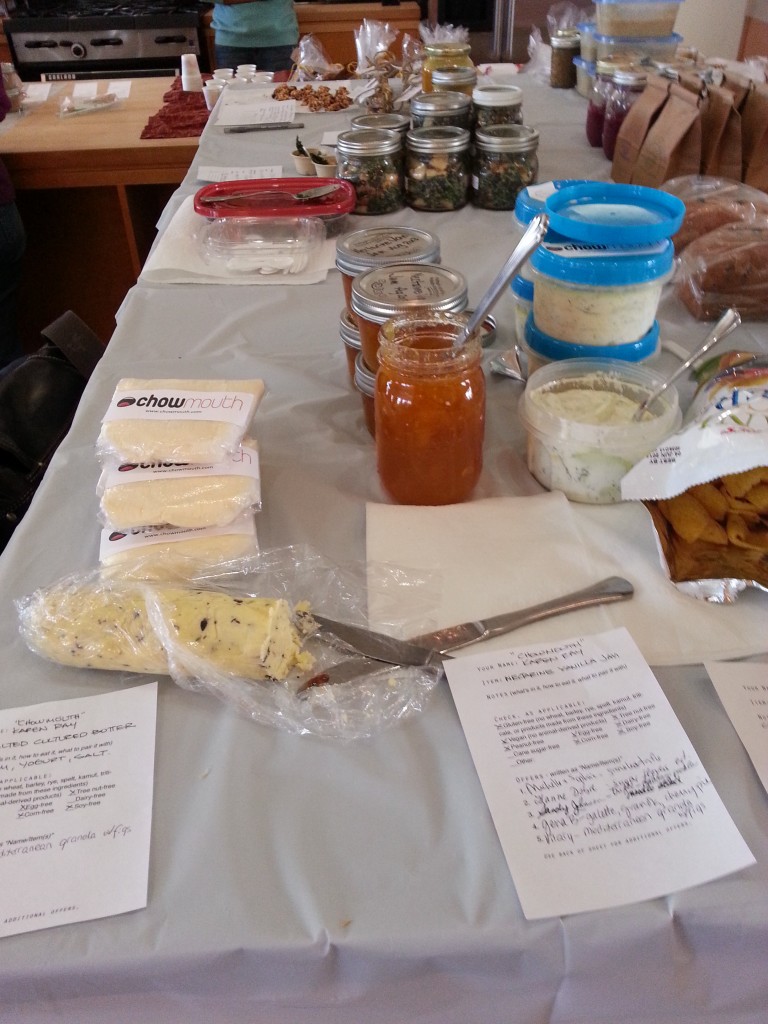 I brought three food items this time – homemade lightly salted butter, my father's recipe for tzatziki (a cucumber, garlic, greek yogurt/sour cream salad), and nectarine vanilla jam that I made last summer. (Luckily, I had extra jam in the pantry since the butter and tzatziki didn't make nearly as much as I had hoped for.) I'd say the butter was most popular, followed by the jam. One person even wanted to swap me for both so she could have butter and jam on her bread.
In exchange for these items, I got some wonderful treats!! The only non-food item was Lemongrass-infused Bath Salts which I was a little hesitant of at first but ended up being fantastic in my bath on Sunday evening.  A perfectly relaxing end to my weekend. This was good since my Monday moring was anything but relaxing thanks to an alarm clock malfunction! The cream cheese-cherry hand pies proved a quick and tasty rescue to breakfast that morning – fabulous with my morning cappucino! Monday's lunch held another tasty treat: deceptively average-looking chocolate chip cookies from swapper Kevin were packed with chips. These little morsels are one of my favorite swaps so far and very far from average!
I haven't had a chance to try all my swaps yet, but I'm sure the rest of the stuff I got will be just as tasty: Lemon Sugar, Sugar flowers (to decorate a future batch of cupcakes), Whole Grain Wheat Flour (thank Andrea!), Mint Simple Syrup, Lemon Curd, Pickled Sandwich Slaw, Peach Lambic Mustard, Cranberry Stout Mustard, Strawberry Vanilla Sauce, Coconut Bliss Steel Cut Oats, Smokey Chipotle Hummus, and Pecans roasted in organic coconut oil.
I am one lucky girl!!