My Awesomely Versatile Cookie Recipe (adapted from "Neiman Marcus Cookies") Yield: 4-5 dozen 3″ cookies/3-4 dozen 4″ cookies
Many years ago, I got the ubiquitous email that was going around for the Neiman Marcus cookie recipe. You remember the one: A mother and her daughter have lunch at Neiman Marcus. The Neiman Marcus cookies are so good, they ask for the recipe and are told they can buy it for "two-fifty". Days later the mom is completely shocked when she gets the credit card statement that shows the recipe cost $250. In order to avenge the retailer, they email the recipe to everyone and ask them to pass it on.
Well, this urban legend is one of the oldest in the book. And it also happens to be one of the oldest index-card recipes in my box. No matter that the story was never true – the cookies are still awesome.
And what I especially like about this recipe is that the cookie dough base is the cookie dough base. What you add into it at the end is only limited by your imagination. So these cookies can be oatmeal cranberry walnut just as easily as they can be pecan chocolate chip toffee or whatever other combinations you can think up. The combinations are virtually endless. I will give you a few suggestions to get you started – where you take it from there is up to you!
1 cup butter, softened
1 cup sugar
1 cup brown sugar
1 tsp. vanilla
2 eggs
2 cups all-purpose flour
1/2 tsp. salt
1 tsp. baking powder
1 tsp. baking soda
2-1/2 cups blended oatmeal, old-fashioned kind
Fixings – usually about 1 to 1-1/2 cups of up to three ingredients. Three fixing ingredients will make for a cookie PACKED with fixings.
Instructions:
1. Preheat your oven to 375°F.
2. In a Cuisinart or other food processor, put in the oatmeal and blend it until it is a coarse flour texture. Something like this: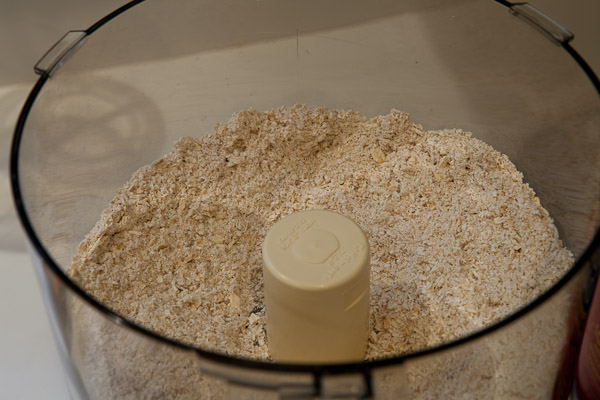 I usually put in more oatmeal than I need and blend a lot of it, then store it in a ziploc bag  to save for later uses. (I make these cookies a lot.) Regardless, measure out the 2-1/2 cups of blended oatmeal and set aside.
2. In a large bowl, cream together the butter and both sugars until smooth and incorporated. Add the vanilla and stir in. Add the eggs, one at a time, if you like although I've never had much trouble with adding them both at the same time. Live a little.
3. In another smaller bowl, blend together the flour, blended oatmeal, salt, baking powder and baking soda until thoroughly mixed together. I usually do this with a fork as the fork tines act like a sifter of sorts.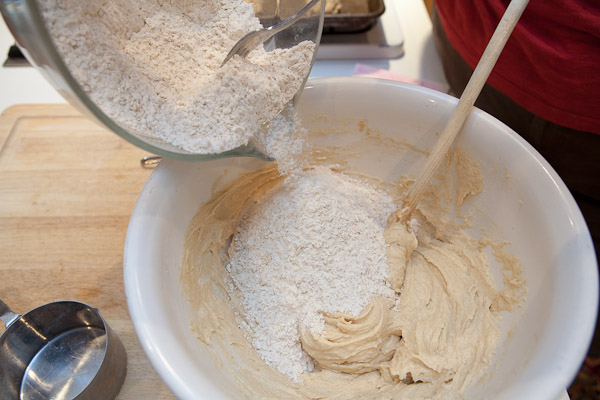 4. Add the flour mixture to the creamed butter mixture in small batches, incorporating all the flour between batches. I usually add the flour mixture in 2 to 3 batches. Once all the flour mixture is added, you will have what I call your cookie dough base.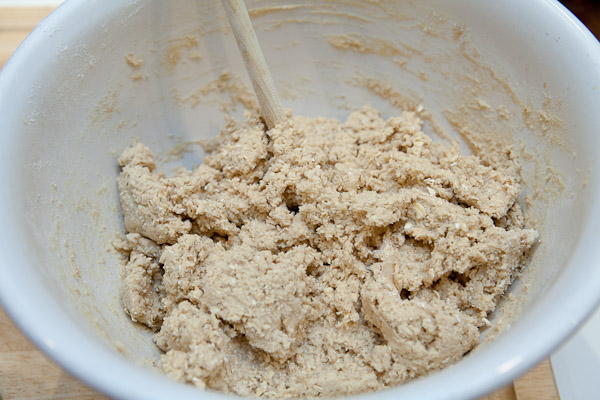 5. Now you add the fixings. In our family there is the on-going battle for first place between an oatmeal-raisin version and a chocolate chip version.
For oatmeal raisin version I usually add the following:
1 cup raisins or golden raisins or Craisins or dates or cut-up prunes
1 cup toasted walnuts (I usually don't put nuts in since a member in our family has a nut allergy, but they are really good with them)
1 cup flaked sweetened coconut
For the chocolate chip version I usually add the following:
12 oz. bag of semi-sweet or milk chocolate chips
1 cup toasted pecans
6 oz. Heath toffee chips
6. Spoon out rounded tablespoons onto ungreased cookie sheets, spacing the cookies about 1″ apart. Bake for 8-10 minutes, rotating the pan halfway through to ensure even baking (if your oven is like mine). Take them out when the tippy tops are JUST starting to brown and cookie looks baked through. Let cookies cool on pan for 1-2 minutes then move cookies to cooling racks to finish cooling.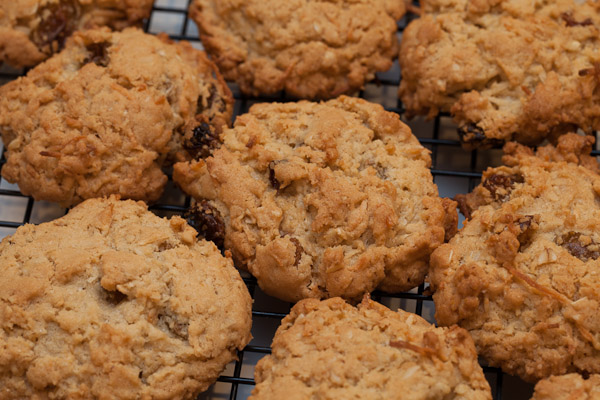 One other tip: after adding the fixings, you can turn the dough out onto a sheet of plastic wrap and roll the cookie dough into a long narrow tube shape using the plastic wrap to help mold it. Wrap it tightly and put it in the freezer. When you are ready to bake fresh cookies, take them out of the freezer and into the fridge to thaw. Then just unwrap the dough and slice and bake them so you can have smaller batches of fresh cookies more often.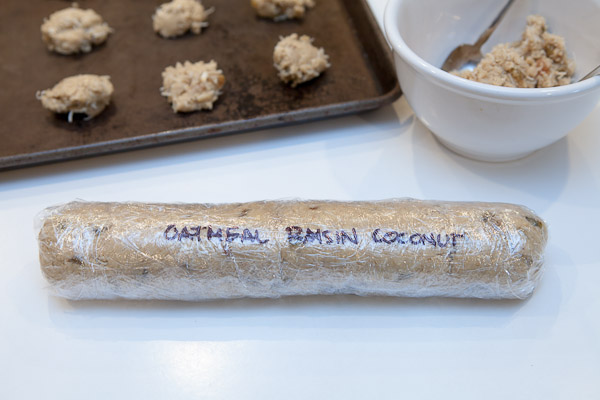 Other fixin' combinations include:
S'mores:
1 cup mini marshmallows
1 cup chocolate chips
1 cup coarsly chopped graham crackers
Butterscotch Macadamia:
1 cup butterscotch chips
1 cup coarsly chopped and toasted macadamia nuts
Lemon Coconut:
2 Tbls. lemon juice
1 tsp fresh lemon zest
1/2 cup finely diced candied lemon zest
1 cup flaked sweetened coconut
Cinnamon Crunch:
1 tsp. cinnamon
1 tsp. nutmeg
1 cup Cinnamon Crunch cereal