This year, our family hit the road to the northern woods of Wisconsin and Minnesota. We started the vacation sans kids, as our boys were up at a camp in Duluth, MN. Our plan was to have a few days to ourselves prior to picking them up before continuing on with our vacation.
Our first stop was Madison WI, a wonderfully hipster place with great eats. It also happens to be the current residence of my two brother-in-laws and sister-in-law, so it was only natural that we would overnight here for my husband's birthday.
We pulled into town just before noon on a hot and humid Wednesday afternoon. At our insider's recommendation, we bellied up to the bar at Brasserie V on Monroe Street to start ourselves out with a refreshing Spotted Cow and their nearly-famous Classic Belgian Frites (fries) With Truffle Oil & Parmigiano Reggiano. This is served with two aiolis – classic garlic and lemon peppercorn. Yum-mee!!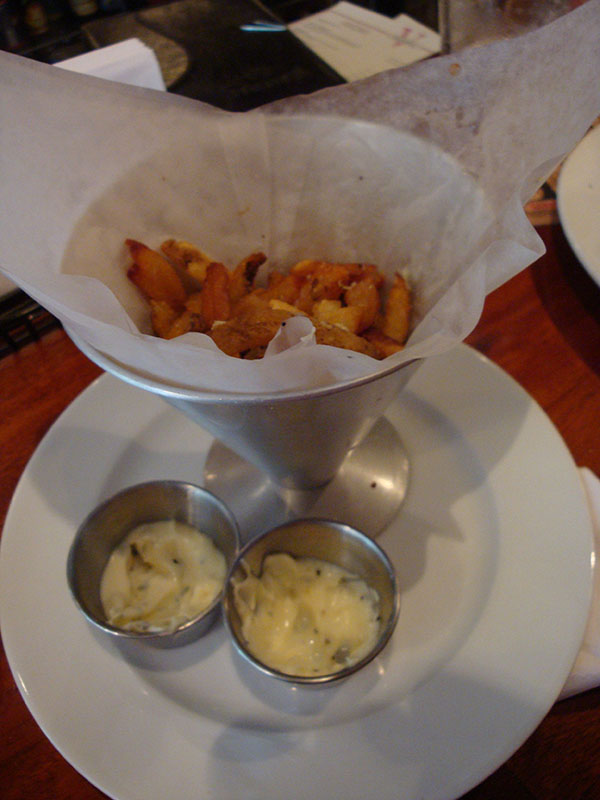 Next, my husband ordered the Reuben sandwich, with pastrami, swiss and dark beer-laced sauerkraut on grilled rye. I went for the lighter approach with Brasserie V Belgian Salad made with frisee and endive lettuces, hard-boiled egg, apple, bacon and a tart cider vinaigrette. Both were delicious!!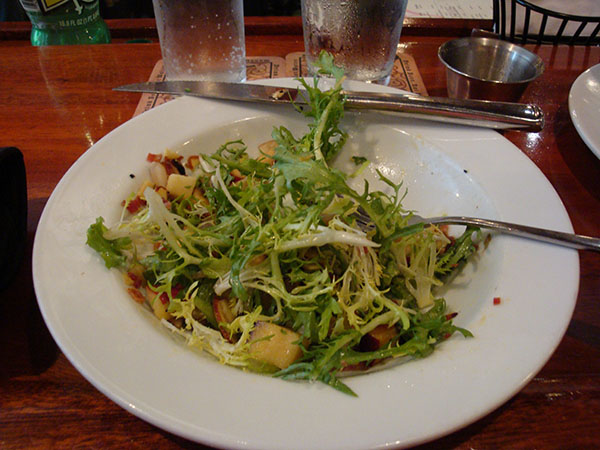 Properly fortified, we parked the car and did a little sightseeing. We explored the Madison Museum of Contemporary Art located just off the Capital Square. They had a cool video exhibit there as well as an outdoor sculpture garden on the top floor (walk through the restaurant to get to it).
It was now check-in time at HotelRED so we got our bags and room keys, surveyed our room (very nice, quite modern albeit a little too much concrete for my husband's taste)  and headed down to the lobby to wait for the rest of our party.
Being my husband's birthday, it was birthday boy's choice for dinner and his selection was the venerable Lombardino's to try the classic ceasar salad he has been raving about since his last visit up to Madison months ago.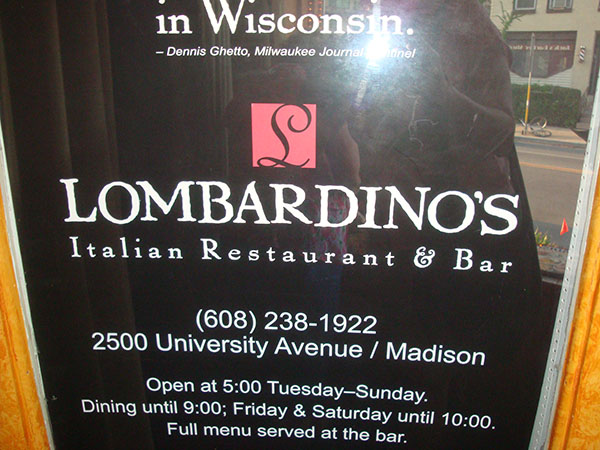 At some point that evening, we learned that it was Restaurant Week in Madison which means there is a set (and sometimes LIMITED) menu available at all participating restaurants. Panic-stricken, my husband asks the host if the ceasar is available tonight – relieved, we are told that we can order anything off the regular menu. Phew!! All is right with the world again!!
Since our party is large and we couldn't get a reservation until 8pm, we are starving and order several appetizers to start:
Olives al Forno, brick oven-roasted olives in garlic, citrus, and thyme – good, not great,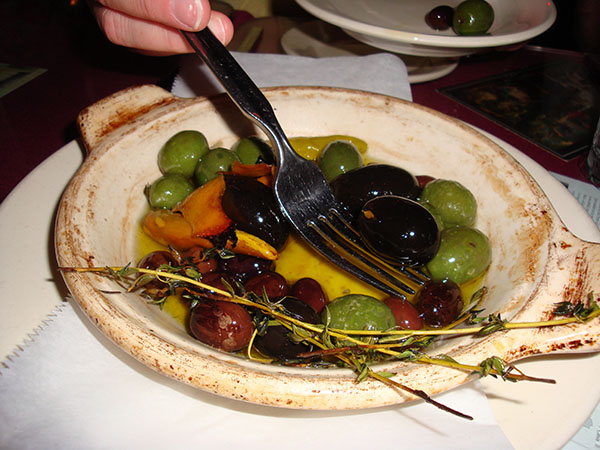 Calamari Fritti served with marinara, horseradish and lemon – fresh and perfectly prepared,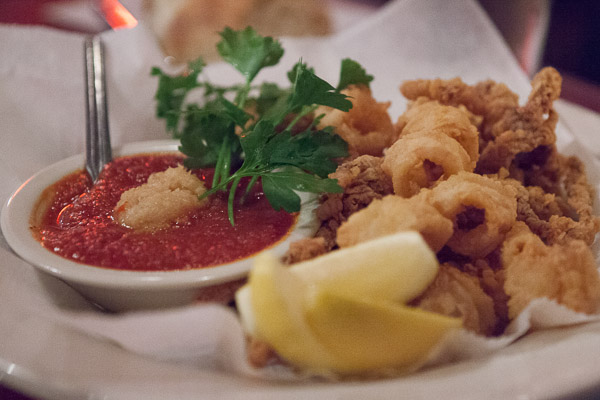 Pizza Lombardino with prosciutto ham, garlic, olive oil, mozzarella, and fresh arugula on a wonderfully bubbled brick-oven crust = Divine!!,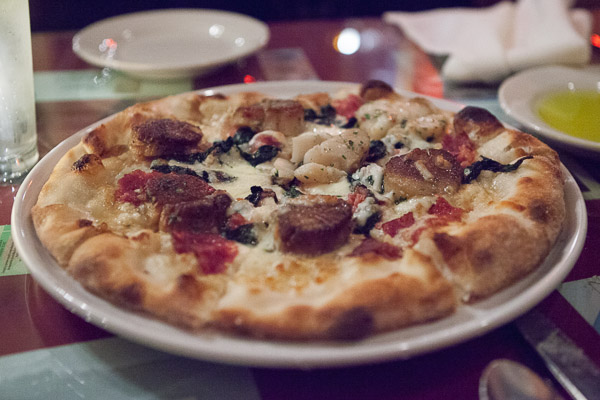 and of course, the Signature Ceasar Salad for all.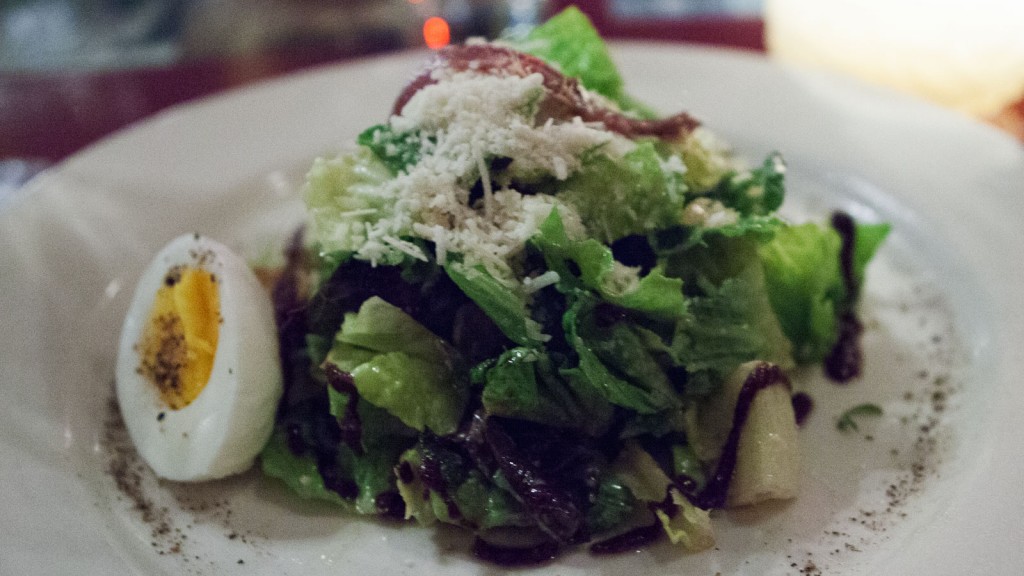 By everyone's admission the ceasar is not as good tonight as normal, and we agree to attribute this to Restaurant Week, as previous tastings have brought tears to my poor husband's eyes. UPDATE: A subsequent visit confirmed that the Caesar Salad is as great as ever and Restaurant Week's set schedule (which didn't include the salad so was put together based on our request) was apparently the cause after all.
Moving on to the main course, many in our party order the 18 oz. Hereford bone-in Ribeye grilled over a wood-burning grill and topped with lemon and olive oil. I admit, I am jealous at the sight and smell of it and wonder for a split second if I have ordered the wrong thing until my plate is set in front of me. I have ordered Pan-Seared Sea Scallops cooked to perfection – soft and sweet, served with tomatoes and basil and topped with a balsamic-olive oil glaze. I think there were some mashed potatoes in there somewhere too. My husband got the Pappardelle con Caponata, a pasta dish with eggplant, raisins, tomatoes, onions, and Fraboni's sausage topped with fresh basil and melted cheese that tasted like his Sicilian grandmother was back in the kitchen cooking it.
If we ordered dessert, I don't really remember it – I was so sufficiently and happily stuffed at this point. Since the wine was a-flowing all night, we wisely summoned the shuttle from the hotel to come pick us drunks up and tuck us into bed, all safe and sound.