So last weekend, my husband and I treated ourselves to a night out. Not just any night out but one filled with fun, food, and film….basically our perfect intersection of overlapping interests. The Chicago Food Film Fest.
I didn't know much about this event but the fact that it centered around food and film was enough to hook me. My husband, being the more literal one of us, spent a good portion of our drive into the city trying to suss out of me just what to expect. Since I had never been this proved to be a futile exercise on his behalf.
As the night unfolded, we were so pleasantly surprised by the premise of the event – watching films about food and tasting the same food you see on the screen. Kind of like smell-a-vision one step further – taste-a-vision.
We attended one night (Saturday) of the three night event. On that night we were shown 5 short films. Our VIP passes not only ensured good seats for the viewing but included hors d'oeuvres of Rueben Crouquettes and BBQ Pulled Pork on a bed of mashed potatoes, as well as an open bar. Although food prepared for mass gatherings usually has the same appeal as visiting in-laws, these appetizers were prepared directly in front of us therefore they were hot, fresh and delicious.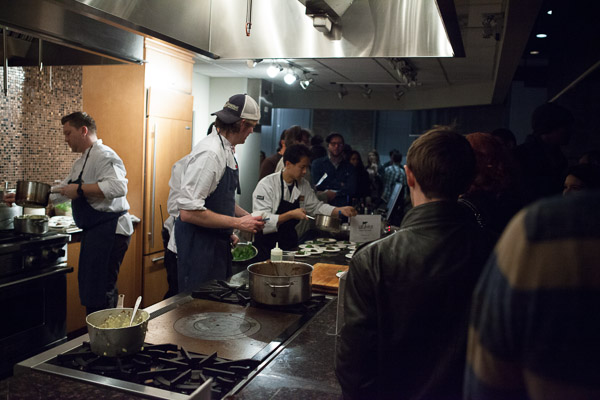 For the Rueben croquettes, think of deep-fried risotto balls except with the addition of chopped onion, sauerkraut, and ham. Once fried, the croquettes are speared by a long thick toothpick and topped with a dap of horseradish dijon, a thinly sliced radish, and a small piece of pickle. This delightful parcel paired nicely with my Ebel's Weiss beer crafted locally in Warrenville, IL.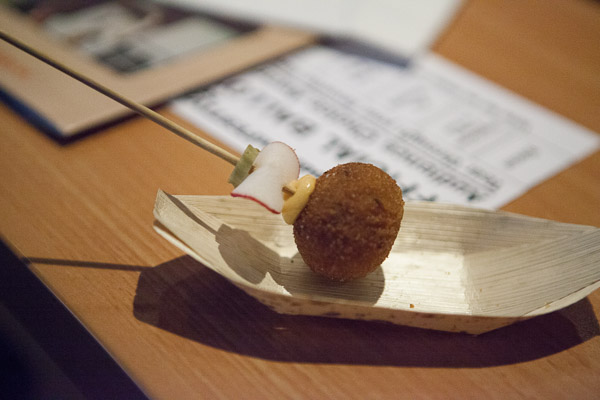 The barbecued pork was tender and succulent in a highly spiced but not spicy sauce that oozed into the mashed potatoes like gravy. The ultimate in comfort. No pictures of this one as we were too busy stuffing our pie holes.
The event was kicked off with a bag-piper in honor of the main film about Scottish whiskey.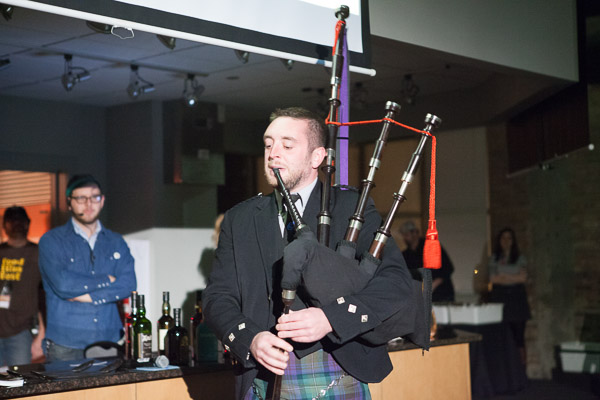 The first film was called "The Benevolent Butcher: Bacon" – the artful filming of bacon-wrapped, balsamic reduction sauced, tender and pink filet steak while tasting the same. Good start.
The second film was called "Vegetables: Friend or Foe?" depicting "carnivorous tomatoes and herds of portobello mushrooms grazing peacefully in the wild." I wasn't able to find this film on the internet for you to view but the tasty tomato cakes served with the film were delicious..friend, indeed!!
The third film was submitted by the owner of Pleasant House Bakery in the Bridgeport neighborhood of Chicago, a restaurant on my radar. I believe they also run a food truck around the city as well. The film is called "Pie Royalty". We sampled these pies at the after-party later and they were by far the best savory items served that night – soft, flaky pillows of pie crust stuffed with meat fillings and topped with rich sauces. They offered two flavors – one with chicken and pesto and one beef version. I liked the chicken one best, but then again I would. They also made pink-iced donuts topped with flaked coconut and white-iced donuts topped with chopped pistachios (see picture below). These were good but I would like to try them again fresh out of the oven before I pass any final  judgments.
The fourth film was called "Food Porn" and needs no further description. The food sampling for this film was whipped cream on bananas. That's subtle.
The fifth and final film, and longest of the bunch, takes place on the Scottish isle of Islay (pronounced "I-lay") upon which eight of Scotland's finest whiskey distilleries work, live and thrive: Ardbeg, Bowmore, Bruichladdich, Bunnahabhain, Caol Ila, Kilchoman, Lagavulin, Laphroaig. Yes, we tasted all these with interjections of Scottish goodies to help mop up. We tasted most of them again at the after party to make sure we had our favorites down. Final verdict, my husband: Lagavulin, mine: Bruichladdich. The film was informative peppered with plenty of Scottish dry wit: " Whisky: The Islay Edition" (longer trailer). It also seems like a beautiful place to visit however the memories you bring back may be a bit foggy.