Over the holidays, my husband, two sons and I traveled to Florida to see my family. My parents have a small Meyer lemon tree in their yard and they graciously donated all the lemons from the tree (about 10 or so) for this recipe. Because of the limited quantity, I only yielded 3-1/2 hlf-pint jars of marmalade so I'm going to be selfish and keep all of it for myself. I'm sure you'll find a way to forgive me…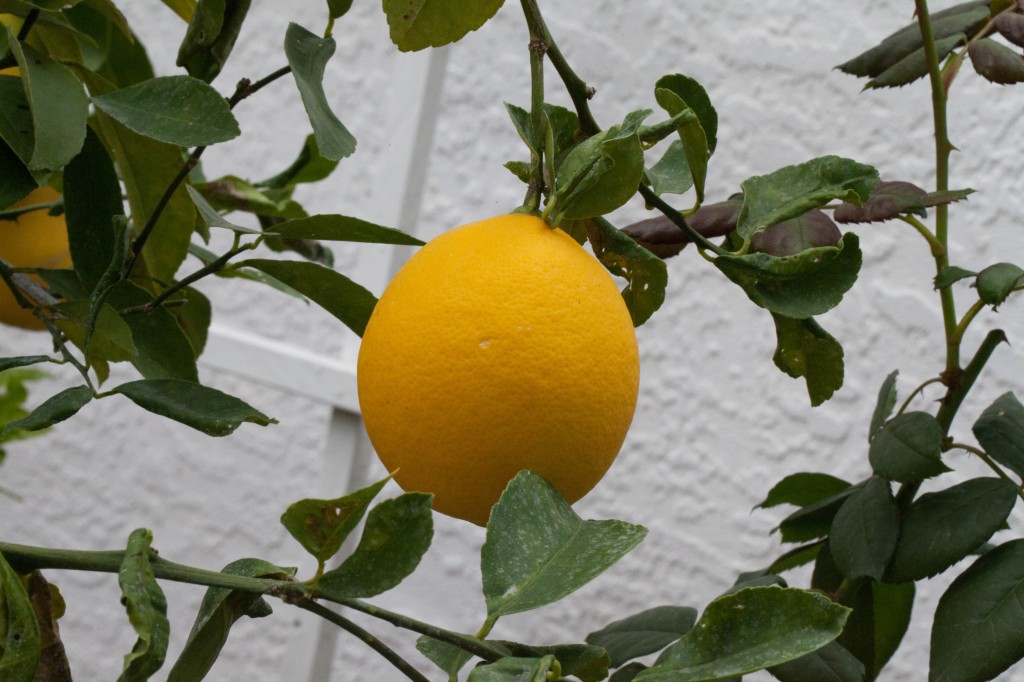 For this recipe I used a tried and true cookbook that I've had for years called "Blue Ribbon Preserves: Secrets to Award-Winning Jams, Jellies, Marmalades and More" by Linda J. Amendt. This cookbook is my personal bible for canning. Absolutely everything I've made from her cookbook has turned out beautifully without fail. There are not that many cookbooks I'm willing to go that much out on a limb for.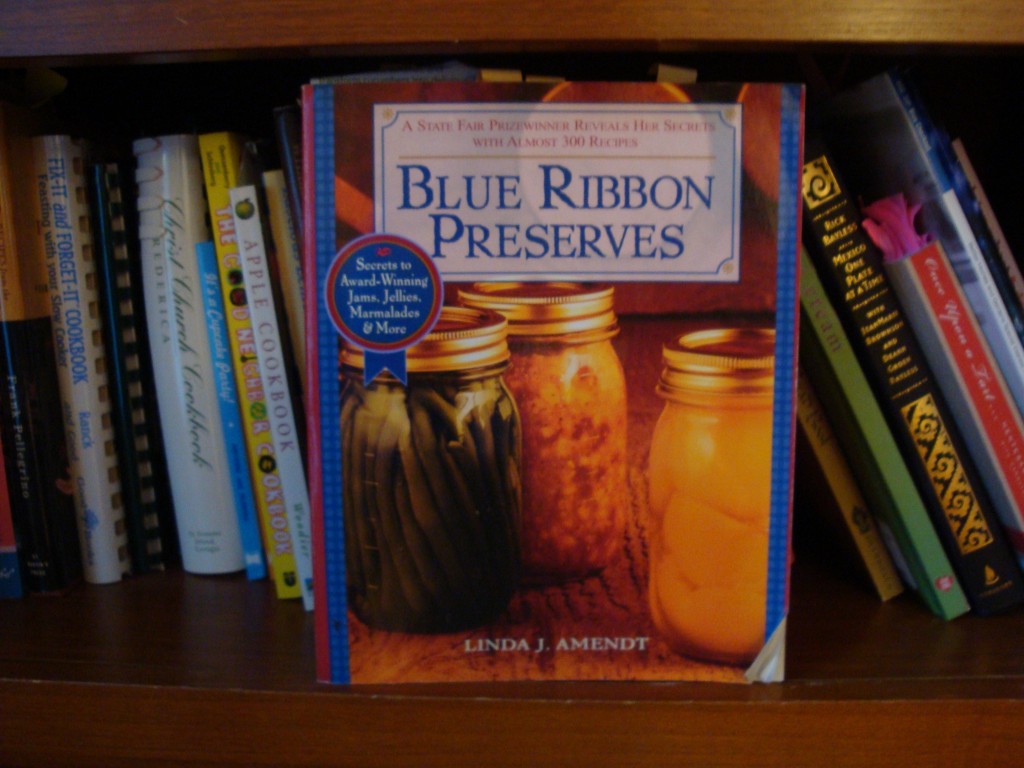 I believe my mother had a love of canning. From my earliest memories, I recall jars of preserved foods on shelves under the basement steps. Whether she had a love of it or whether she did it out of a sense of duty from growing up on a farm, I cannot say. I know my father has a love of all things pickled, so that might well be the root of it too; maybe she did it for him.
Nonetheless, I have the canning bug. I love planning a weekend dedicated to full-onslaught canning. This requires buying or picking in-season fruit and/or veggies, figuring out what I want to make with all the produce I've just carted home, and ending with a full shelf or two of summer's bounty captured for later delight in the dead of winter.
I am usually fairly generous with sharing my bounty with family and friends. But this time the marmalade made so little and  turned out fantastic! And I'm feeling a bit stingy. I get the occasional pang of guilt that I should at least send a jar to my parents for supplying the main ingredient for this endeavor, but that subsides quickly when I look out the breakfast room window at the snowy January day and taste the sweet tart flavor on my warm, buttered muffin. "I need it more than they do" is my rationale. And I know they will understand.
Ingredients:
 1 cup zested or thinly sliced Meyer lemon peel (do not pack)
1 cup water
1/2 cup strained fresh Meyer lemon juice
1 cup water
1/8 tsp. baking soda
2-1/2 cups supremed and finely chopped lemon segments plus enough reserved juice to equal 3 cups (20-25 Meyer lemons)
5 cups sugar
1/2 tsp. unsalted butter
1 (3 oz.) pouch of liquid pectin
Six half-pint jars, lids and screw rings or three pint size
Directions:
NOTE: I used a fine grate on the zest so the zest pieces are not as large as in some marmalades I've had – I think I prefer it this way.
ANOTHER NOTE: You will want to have all the ingredients mise en place (a fancy way of saying have all the ingredients chopped, grated, measured, etc so they are ready to go.) There are many steps that require constant stirring, so there will be no time to stop and chop or measure once you are into the cooking end of this recipe.
In a small bowl, combine the lemon zest with 1 cup of water. Let this sit for 10 minutes, then drain the water off and put the reserved peel into an 8-quart dutch oven pan. Add to this pan along with the peel, the 1/2 cup lemon juice, the other 1 cup of water and baking soda. Over medium-high heat, bring this mixture to a boil, then reduce heat , cover and simmer for 10 minutes, stirring occasionally.
Stir in the 3 cups of supremed chopped segments/juice and continue simmering for another 10 minutes, covered.
Remove the cover and stir in the sugar and butter. Stir constantly until all the sugar is completely dissolved.
Once dissolved, increase the heat to medium-high again and bring the mixture to a full rolling boil, stirring constantly. Stir in the whole pouch of pectin and return the mixture to a full rolling boil, stirring constantly. Once at a full rolling boil, let it continue boiling for 1 full minute while stirring constantly.
Remove the pan from the heat and skim off any foam, if necessary.
Allow the marmalade to cool for 5 minutes so that the fruit will properly suspend itself in the jam liquid. If you fill the marmalade into the canning jars without letting it cool this 5 minutes, your fruit will sink to the bottom and not have uniform texture.
After 5 minutes, gently stir the mixture to distribute the fruit. Then ladle it into hot jars, leaving 1/4″ headspace. Wipe the jar rims and threads in order to get a good jar seal. Cover with hot lids and apply screw rings until the rings are just stopped, NOT tightly screwed on. (You should be able to gently use two fingers to unscrew the rings, just as a gauge.)
Process half-pint jars in a 200°F water bath for 10 minutes, pint jars for 15 minutes.
Remove the jars from the water bath and wait for the lids to "ping" to let you know the jar has sealed tightly. Any jars that don't "ping" or only lightly "ping", I would put them in the refrigerator for immediate use. The rest of the properly sealed jars can go in a cool, dark storage area which is usually people's basements.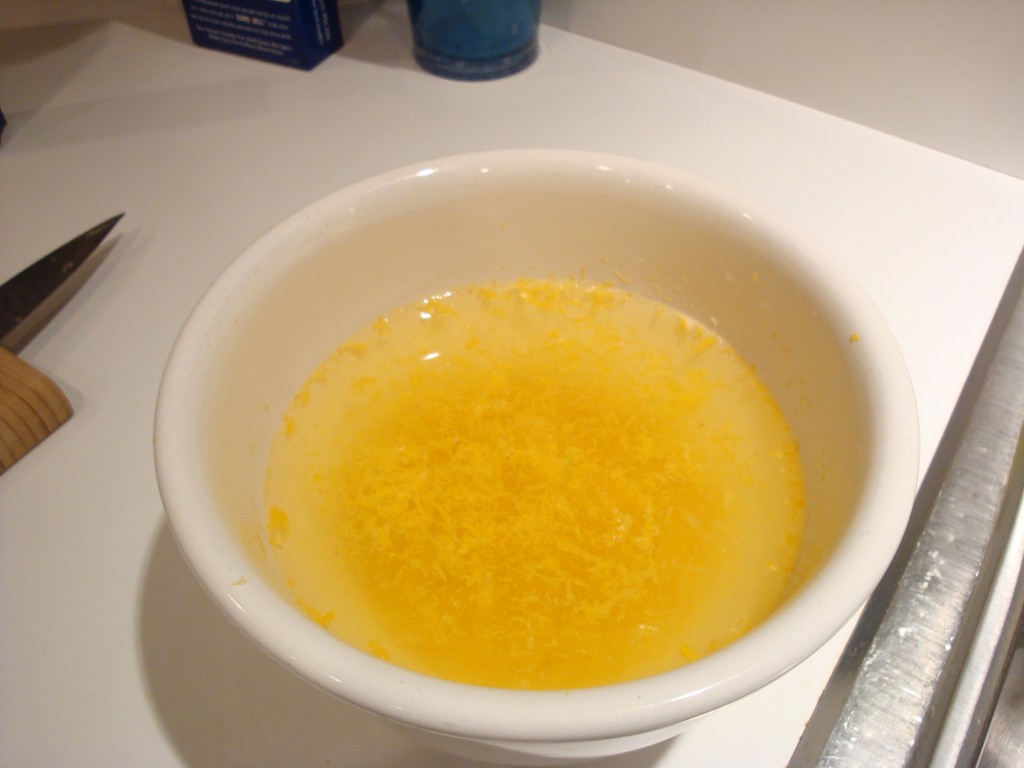 Lemon zest soaking in water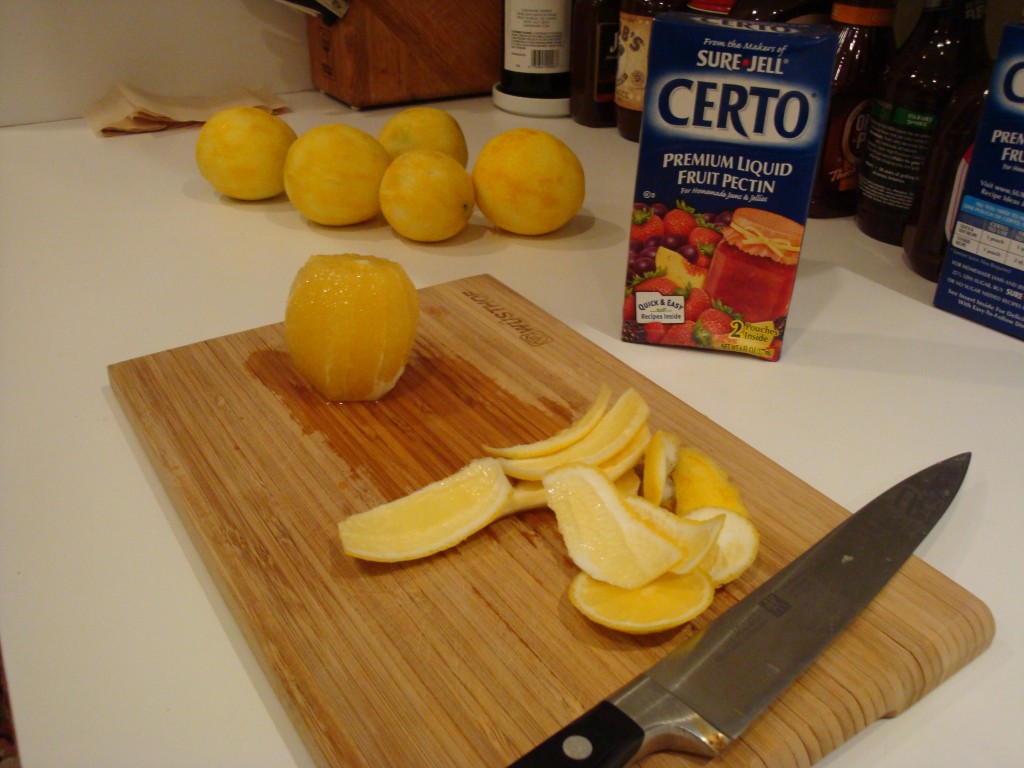 Supreming lemons, step one: remove peel & pith.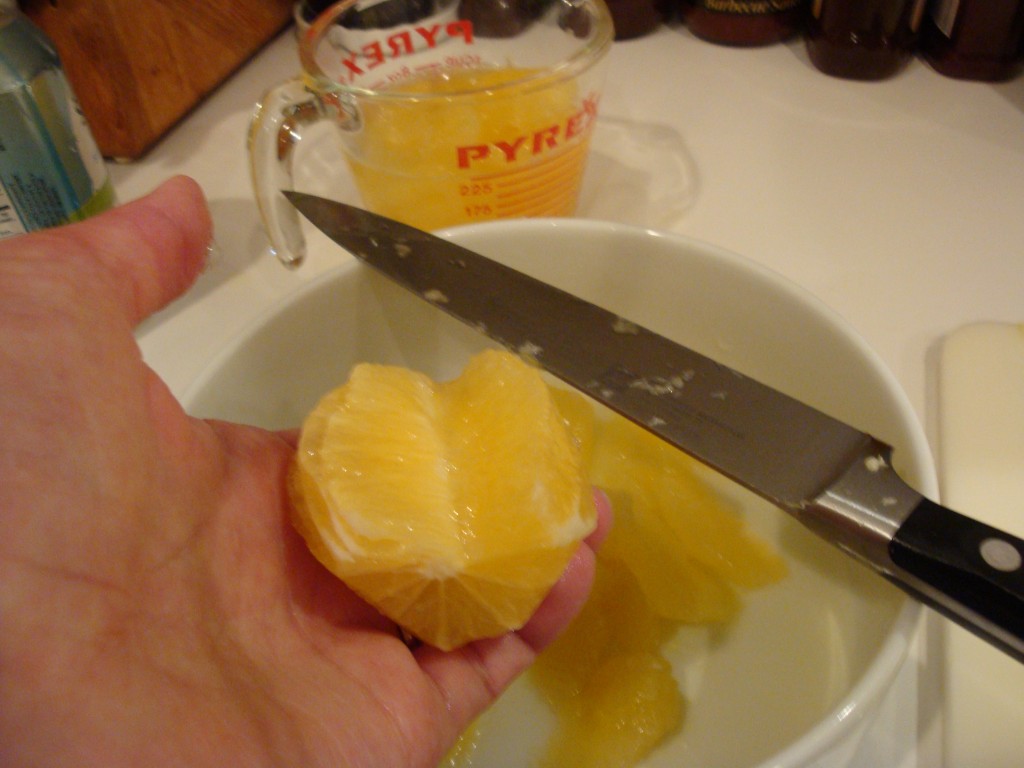 Supreming lemons, step two: cut out segments.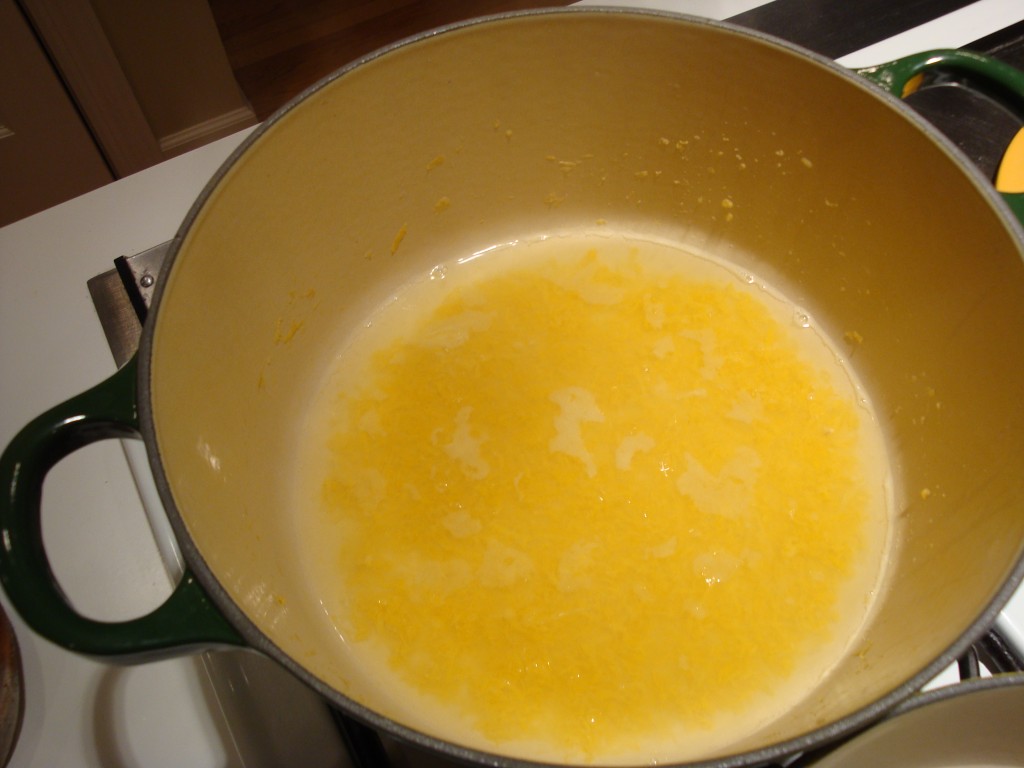 Zest, water and baking soda, simmering.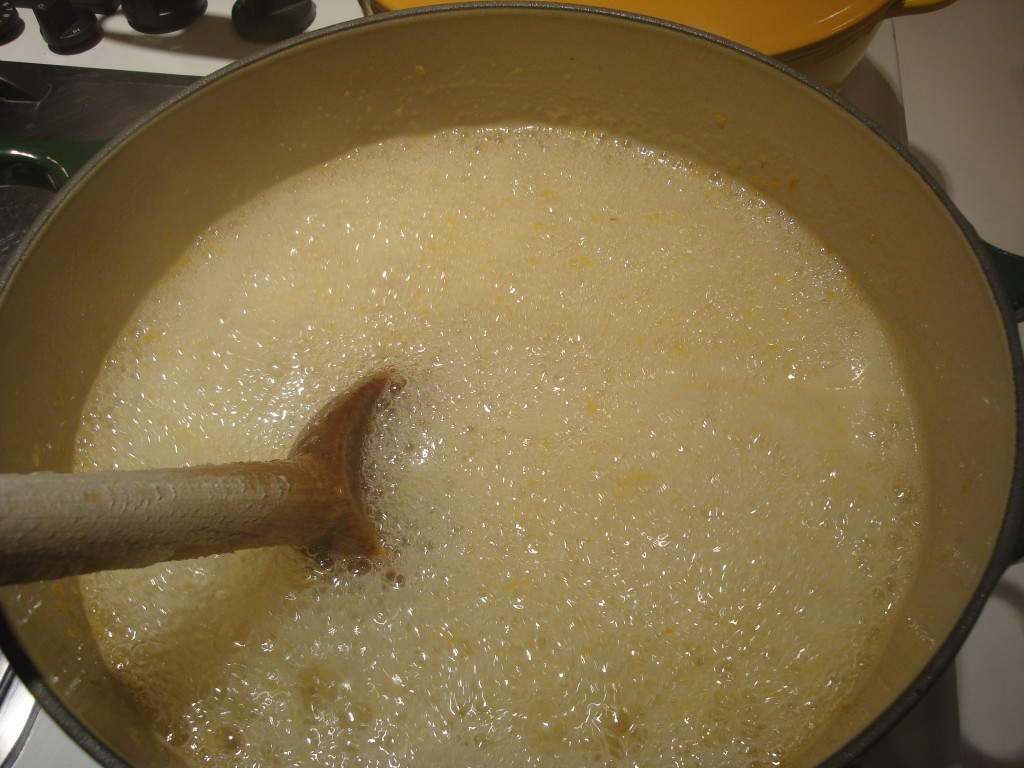 After adding sugar, butter and pectin: rolling boil.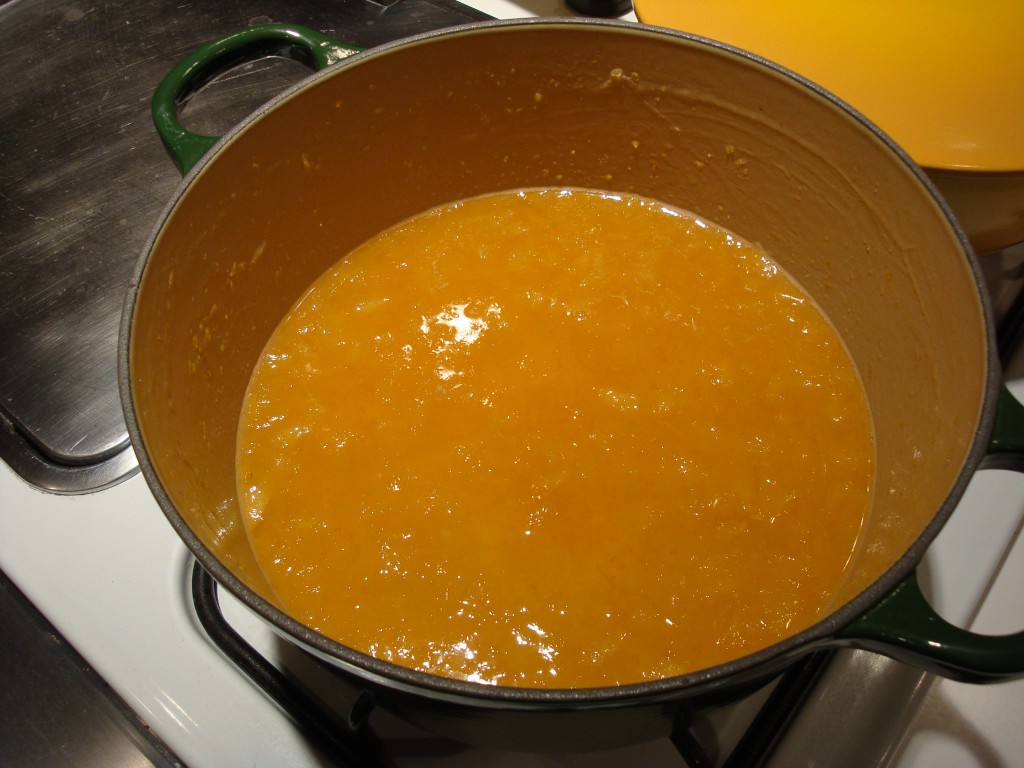 Marmalade ready to go into jars, after cooling.